2016 Summer Camps
Summer Camps Poster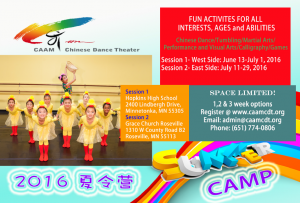 Summer Camps Intro Video
A letter to parents
Dear Parents:
For more than twenty years CAAM Chinese Dance Theater has shared Chinese culture through its many programs. This coming summer is no exception.
CAAM CDT's summer camp is again centrally located at Hopkins High School, and Grace Church Roseville, to be close to your home or work. Your child can choose one, two or three week options (obviously the longer the time, the broader and deeper the experience!).
We are blessed to feature professionally trained and exceptionally talented members of the Chinese community who want to share Chinese culture and the arts with the campers. In many cases CDT can offer teacher/camper ratios of 1/8 or even smaller! Campers will have a rich individualized experience indeed!
Last year CDT's camp brought together Chinese language, both spoken and written, Chinese literature including numerous legends, as well as dance, paper and wire sculpture and vocal music around the theme of animals. Campers' other experiences included interviews of Chinese seniors about growing up in China, a Chinese cooking lesson about dumplings, a visit to the O'Shaughnessy's backstage to learn about stage craft and exploration of the Chinese sculpture collection at the Minneapolis Institute of Arts!
2016 Summer Camp will include some of last year's favorites as well as NEW PROGRAMMING! Hands on learning in painting, calligraphy and instrumental music are planned. Total Chinese language immersion options will also be available.
Below are specifics on time, place and costs.
Session 1: West Side
June 13-30, 2016 9- 5 pm*
Hopkins High School
2400 Lindbergh Drive,
Minnetonka, MN 55305
Session 2: East Side
July 11-29 2016 9- 5pm*
Grace Church Roseville
1310 West County Rd B2
Roseville MN 55113
Rates: Basic rate: $240 per week (10% discount for 2 weeks; 20% discount for 3 weeks)
*(with drop off options 8:30- 5:30 pm for an additional fee) No lunch or snacks provided (campers bring their own, unless otherwise discussed with parents).
We look forward to your registration! Register Now!.
We gratefully acknowledge the co-sponsorship of our summer camp program by: