Baoting Li & Miao Autonomous County Song and Dance Troupe
The Confucius Institute at the University of Minnesota andInternational Friendship through the Performing Arts
Presents
Baoting Li & Miao
Autonomous County Song and Dance Troupe
Tuesday, October 16, 2012
7:30 p.m.
Ted Mann Concert Hall
(2128 Fourth Street South Minneapolis, MN 55455)
This is a free event but tickets are required.
Click Here to Register
 Join us for a special performance from the award-winning Baoting Li & Miao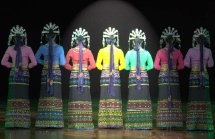 Autonomous County Song and Dance Troupe. The troupe will make its U.S. debut as it performs traditional music and dance from China's Li and Miao (Hmong) minorities in St. Paul and Minneapolis.
For over nine years, the Troupe has aimed at exploring, arranging and developing Baoting's characteristic local music and dance art. It has choreographed and performed numerous dances that have received prestigious awards throughout China. The Li & Miao folk art is significantly diverse in its styles and expressions, creating a unique culture of Chinese folk art that has received high appraisals nationwide.
In recent years, the Troupe has expanded beyond Baoting County and the South Qiong region. The Troupe has brought the Li & Miao culture to Beijing, Xi'an, Hohhot and even Taiwan and Hong Kong, and was also commissioned by China's Ministry of Culture and China's Tourism Bureau to perform in many foreign activities, such as "Joyful Spring Festival" and "The Treasure Island in Europe", and in countries such as Russia, Kazakhstan, Germany, Austria, Hungary Sweden, Ireland, Finland, Korea and Japan. Through these cultural missions, the Troupe has successfully brought the Li & Miao culture to foreign counties, facilitating cross-cultural communications.
This activity is made possible in part by a grant provided by the Minnesota State Arts Board through an appropriation by the Minnesota State Legislature from the State's arts and cultural heritage fund with money from the vote of the people of Minnesota on November 4, 2008.
This is a free event but tickets are required.