2010
CAAM CDT Presents 2010 Annual Production:
"The Sound of Drums from the Land of China"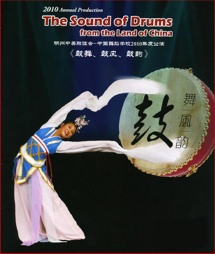 O'Shaughnessy Auditorium, College of St. Catherine, St. Paul, MN 
Saturday January 23, 2010 7:00pm 
Sunday January 24, 2010, 2:00pm
Tuesday January 26, 2010 9:45am (for school students)
Tuesday January 26, 2010 11:45am (for school students)
The Sound of Drums from the Land of China is inspired by the wide range of dance and music styles involving drums throughout China's long history and across China's vast landscape. From ancient times, people believed that the stirring rhythm of the drum could facilitate spiritual communication with nature. Drums—large and small, ornate and plain—have been important musical and ceremonial instruments from the earliest documented time periods.
In this program, through the use of drums in music and in dance, we invite you to join us on a journey through history and across the land—to witness ceremonial rituals, timeless children's games, rhythms of the ancient Silk Road, and the trials and tribulations along the magnificent Yellow River. In addition, dances of traditional lanterns and flower drums bring us blessings of peace, health and prosperity for 2010, the Year of the Tiger.
The Sound of Drums from the Land of China School Performances are shortened programs that serve school children with educational and cultural objectives. Now in its 8th year, CAAM CDT's school performances continue to serve thousands of school children through a rich blend of music, dance, costuming and storytelling. Each year the program consists of all new repertoires and draws repeat participation from many schools from the greater Twin Cities area.
The Sound of Drums from the Land of China Education Guide provides the cultural background to this ambitious show, as well as suggested instructional activities to enrich the learning experience for students. Through participating in this program and by engaging in additional educational activities on the same subjects, students significantly increase their knowledge of and appreciation for the rich and diverse cultural heritages of fellow Minnesotans.
| | | |
| --- | --- | --- |
| 2010 | The Sounds of Drums from the Land of China   鼓舞, 鼓风, 鼓韵 (歷史)  AD: 滕莉莉  | January 23, 24, 2010  o'Shaughnessy Auditorium         SM:  Shuling Lai |
| 01 | Rituals of the Ancient  序:  远古鼓祭  (遠古時代) | R: Teng Lili |
| 02 | Bantering  抢鼓 (漢朝宮廷樂舞) | R:  Li Ying |
| 03 | Silken Splendor   柔袖鼓韵 (春秋战國至隋唐明清:  長袖善舞) | Chorepgraphy: Teng |
| 04 | Rhythms of Denhuang   敦煌樂鼓 (南北朝, 敦煌羯鼓舞) | R: Teng Lili |
| 05 | Let's Play   巴郎鼓 (战國時代) | children |
| 06 | Listen to My Drum   听鼓仔 (宋朝民間雜技) | R: Teng Lili |
| 07 | My Yellow Earth  黄土黄  (現代中國北方黃土地) | R:  Li Ying |
| 08 | Red lantern Greeting New Year  喜迎春 (紅燈籠)  | R: Teng Lili |
| 09 | Harvest   美阿里  -朝鲜族民間手鼓 | R: Teng Lili |
| 10 | Yao Mountain Ballad   瑤山瑤 -瑤族長鼓 | R: Teng Lili |
| 11 | Journey  鼓紅 – (現代) | R: Teng Lili |
| 12 | Jubilation  花鼓新声 – 鳳陽民間花鼓 | R: Teng Lili |
| 13 | Blessings  金鼓齐鳴賀新年 | Chorepgraphy: Teng Lili, Li Ying |