2012 Spring Recital
The 2012 Spring Recital was an exuberant and fun filled afternoon featuring dancers from CAAM Chinese Dance Theater, Rochester and XinXing Academy.  A total of 180 dancers performed 21 dances.  The dances ranged from our youngest dancers performing spirited and playful  routines to our older dancers performing energetic contemporary themes and traditional ethnic dances.  The recital had many new arrangements as well as old favorites refreshed for a new generation of dancers.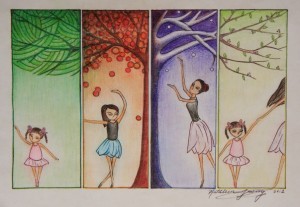 Saturday, May 19 2012 – Eden Prairie High School
A Great Start
Little Basket
My Windmill
Watching the Opera
Waist Drum Dance
Merry Angel
Mountain Girls
Chinese Dance Skills Showcase
Hair Dance
Rhthmical Movement
Xinjiang Ethnic Dance
Fluttering Butterfly
Flowery Flute
Chinese Knots
Chirping Birds & Cherry Blossoms
Blazing Pomegranate Flowers
Umbrella and Fan Dance
By the Bonfire
Fan Dance
An Amusing Game
Colorful Skirts.
CAAM Chinese Dance Theater would also like to congratulate 5 year award winners Mei Abraham, Lily Gornik, Maddie Londgren, Anya Mazar, Qin Qin Youngdale, Jade Bing Zalznik (CDT), Merissa Ding, Cindy Han, Emma Luo, Michelle Mai, Amy Wang, Anna Wang, Serena Yang (Rochester) and 10 year award winners Seeley Schaefer, Lan Lan Youngdale, Michelle Zhang and Shannon Zhou.