A Fiery Hot Dragon Boat Festival
Check back later for a slideshow of the Dragon Boat Festival and other outreaches from the summer.  CAAM CDT was very busy this summer!
The Dragon Boat Festival is a major Pan Asian festival that is held each summer at Lake Phalen in St. Paul. The festival gets its name from Duānwǔ Jié a traditional celebration originating in China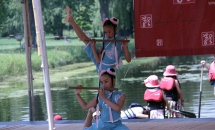 that has spread through Southeast Asia. The Dragon Boat Festival in St. Paul is inclusive to all Asian cultures. It features the dragon boat races, martial arts and performance arts.
CAAM Chinese Dance Theater was there to demonstrate the beauty and energy of Chinese Dance. Our dancers worked very hard and despite very hot weather conditions put on an excellent show. Our dancers performed admirably and treated the crowd to Fluttering Butterflies, Flowery Flute and concluded with the most appropriate By the Bonfire. See website for pictures from the Dragon BoatFestival